Hello Kings and Queens!
We rejoin our intrepid explorers once more as they embark on another thrilling adventure into a brand new ancient tomb. Dust off your Shovel, Brush and Dynamite and join us again for another wild ride into the depths of a cave filled with riches. Check out our video below for a full overview of whats coming!
The Archaeology Event returns to your cities on May 5th and will run until May 25th 2020​
As soon as the Archaeology Event has started, you can access the event window.
Just like last year, the aim of the game is to channel your inner explorer, and clear sand from the tomb to uncover precious rewards, such as vases, Golden Idols, and even more tools left behind by other explorers to help you on your way. Complete quests to earn Scrolls. There are a total of 60 quests. 39 will be available immediately, and then a further 21 will be released each day. Use these Scrolls to purchase tools to help you clear the tomb. You can also purchase additional Scrolls for Diamonds if you need some!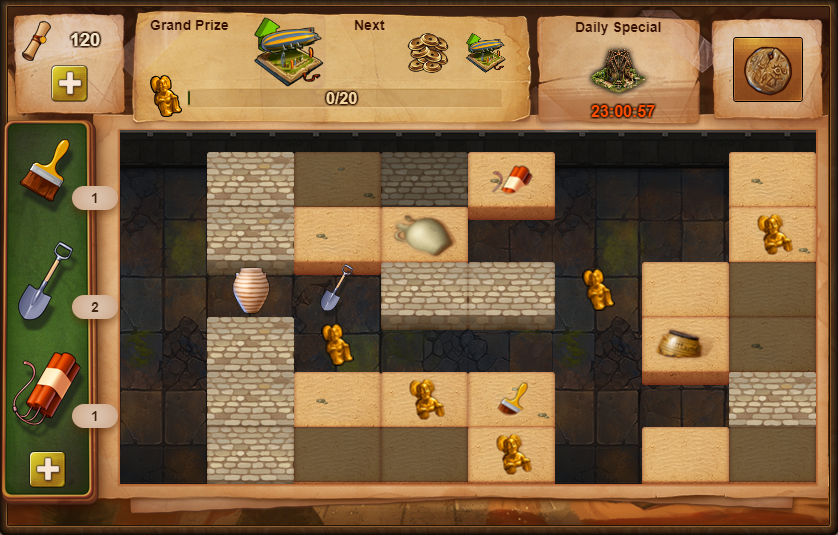 Upon opening the event window, you will see the cave's layout ready for you to explore. Use the different tools available to you to clear sand from tiles, and advance your way further into the tomb.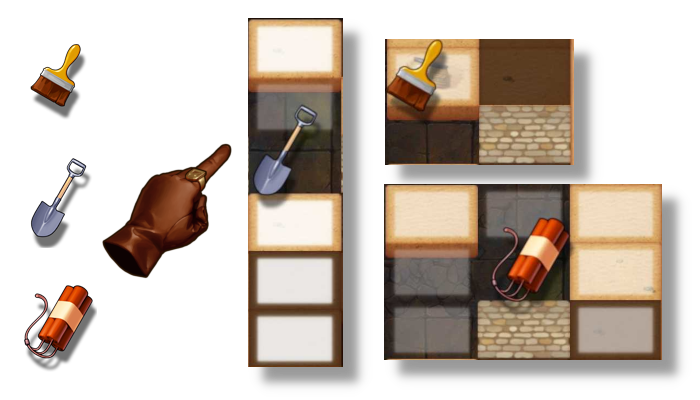 Use the tools at your disposal to clear sand from tiles to uncover buried treasures. As you can't clear stone tiles, make sure you plan ahead to use your tools effectively. You will be in with a chance to unveil a vase, more tools (Brushes, Shovels and Dynamite) to aid your progress, or coveted Golden Idols. Hover your mouse over vases to find out what is on offer in each one. Once you've uncovered a reward fully, click on it to claim your prize. Make sure you clear the sand from the rewards you're interested in before they disappear forever as you progress through the tomb!
Once you reach 20 Gold Idols, you will receive the Grand Prize which is displayed at the top of the event window.

As you dig your way through the depths, you'll notice something is different about this cave. While advancing through the ancient ruin you may find rare clay tablets. With each you can start an optional questline with a special reward at the end. These quests are not added towards the Archaeology Event counter. Finishing each clay tablet grants you the Historian Reward. This also means that you'll be able to potentially work on multiple quests simultaneously.
The Archaeology Event offers you the chance to win a whole host of prizes, as well as some brand new rewards.
This year's grand prize is the magnificent Airship, an upgradable 7x3 building with 11 levels.
At level 11 (pictured) this magnificent feat of human engineering produces:


Coins
Population,
When motivated

Supplies
Forge Points
Goods
Guild Treasury Goods

The Globe Fountain is a 3x3 Cultural Building. You'll be able to find this beautiful unique building for your city as a daily special prize at certain times during the event.
The Globe Fountain provides:


Happiness
Attacking Boost to your Defensive armies
Defensive Boost to your Defensive armies
Supplies Boost
You can also unlock some unique avatars for completing the quest line:

​
Last but most certainly not least, just like last year, the most seasoned explorers may also find Avatars from past events in on their way through the cave!
As always, your feedback is very important for us, so don't forget to
comment here
!
Yours,
The Forge of Empires Team
Last edited by a moderator: