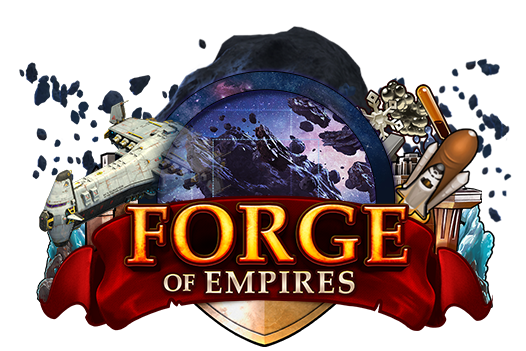 Dear Kings and Queens,
We are proud to present your our brand new Age: Space Age Asteroid Belt (SAAB).
The Earth is still our planet, but the population keeps growing and growing, as does the urge for even more resources. Based on known terrestrial reserves, key elements for modern industry and food production could be exhausted on Earth within 50 to 60 years. Having explored Mars, we already have our first footprints in the Solar System, so now The Asteroid Belt is the ideal place for Mankind to get the needed resources to survive and keep going further.

You can start exploring the Space Age Asteroid Belt on April 23rd, 2020.​
The Space Age Asteroid Belt age brings you:
Your own Asteroid colony to manage!
50 main story line quests
45 side quests
15 recurring quests
9 new Avatars
7 new expansions (3 new diamond expansions, 1 new campaign, 2 new research expansions, 1 victory expansion).
25 new technologies to research
2 new residential buildings
5 new military buildings with 5 new units
6 Goods Buildings - Synthesizers
2 new workshop buildings
2 new culture buildings
1 new decoration
2 new streets
1 new Great Building
The colony:
The new colony at the Asteroid Belt becomes available upon researching its first technology on the Research Tech Tree. Please keep in mind that unlocking this new technology, will grant independence to your previous colony (Mars) and give you access to a new one (Asteroid Belt). Nevertheless, the previous colony goods can still be produced with buildings from the upcoming technologies.
Once you reach the Space Age Asteroid Belt Age, your new colony will be accessible through the same Spaceport in the outskirt limits of your own city:
| | |
| --- | --- |
| Space Age Asteroid Belt's Town Hall​ | Spaceport to visit your colony​ |
| | |
By travelling to your colony in the Asteroid Belt, you can already start building it up. To obtain the new goods that will advance you through the Asteroid Belt, you will need the help of your colony. The new goods buildings will be built in your colony during the Asteroid Belt age, as you do not yet have the possibility to synthesize them in your main city. In the same way you needed Mars Ore to advance through Space Age Mars, you will need Ice from asteroids to refine it into the goods. Unlock the exploration sites on the campaign map to obtain Asteroid Ice.

One of the most important resources in your colony is your Life Support. You will notice it on the upper left side of your colony and it provides a bonus to your goods production. To help your colony to become more productive and successful, you will need to place Life Support buildings, such as Storage Container, Fuel Tank, Underground Reactor and Space Wharf.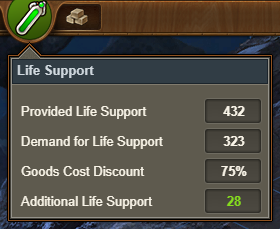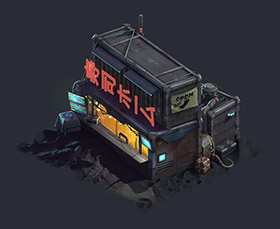 New Great Building:
Great Building - Space Carrier ( 4 x 7 )​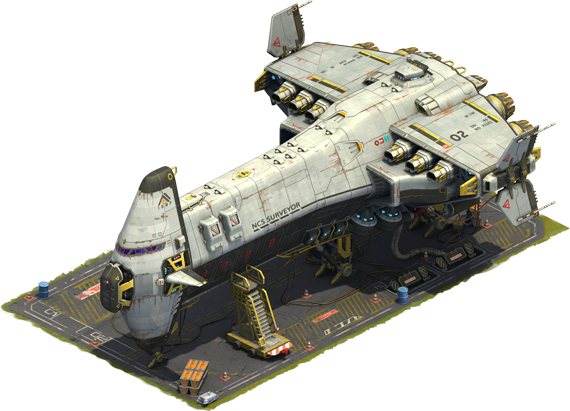 This new Great Building (Space Carrier) provides you an Active Skill and a Passive one. The Active Skill (Orbital Transfer) produces special resources every 24 hours after reaching the Arctic Future Age (like Promethium). The Space Carrier produces medals in the previous eras, while the chances and types of special resources vary in the eras after Arctic Future. In parallel, there's a Passive Skill (Diplomatic Gifts) that gives a chance of providing you with a random reward in the first number of victorious negotiations. Please find a list of possible rewards below:
50 Goods (24%)
125 Goods (8%)
250 Goods (3%)
500 Goods (1%)
10 Forge Points (25%)
50 Forge Points (12%)
200 Forge Points (5%)
5x Rogue (16%)
10x Rogue (4%)
50 Diamonds (1%)
Diplomatic Gifts Selection Kit (1%)

Wishing Well
Wishing Well Shrink Kit
Renovation Kit
New Units:
All the units provide you a chance of doubling the damage while attacking another unit. With exception of the Champion, all units have an AR Targeting system.
| | | | | |
| --- | --- | --- | --- | --- |
| Shredder​ | Hover Hammer​ | Nail Storm​ | B.E.L.T.​ | Drill Ranger​ |
| | | | | |
Shredder

Heavy Unit - It gains attack bonus from the Close Quarters' skill when attacking an adjacent field.

Hover Hammer

Fast Unit - The Hover Hammer is a flying unit that ignores terrain and cannot be attacked by Artillery armies.

Nail Storm

Ranged Unit - The Nail Storm can hide in a Rubble, which also provides attack bonuses.

B.E.L.T.

Artillery Unit - The B.E.L.T. gains attack bonus for each field closer to the target and it ignores stealth.

Drill Ranger

Light Unit - This close combat unit always retaliates attacks from adjacent fields.
Please, note that with the release of the Space Age Asteroid Belt, it was observed that the Space Age Mars Guild Expedition costs had not been balanced when Space Age Mars was introduced. This was updated with the introduction of the Space Age Asteroid Belt.
Let us know what you think about the new era and its setting, as well as all the new content. We're looking forward to your
feedback
!
Thank you for playing Forge of Empires!
Your Forge of Empires Team
Last edited by a moderator: