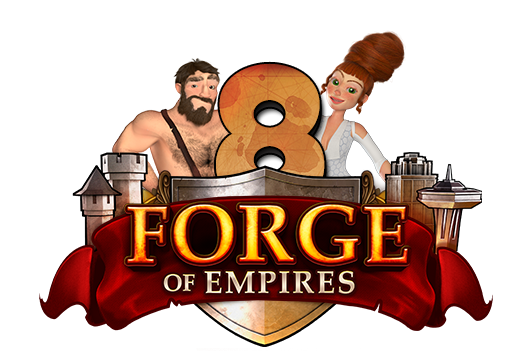 Dear Queens and Kings,
Tomorrow will be a remarkable milestone for us, and it's all because of your immense love for the game: Forge of Empires turns 8!
Our sincerest thanks to all of you who've been playing and supporting Forge of Empires over the last eight years. Also, a special thanks to all members of our community, as well as supporters and moderators, who were constantly providing us with feedback and have helped shape the community into the incredible place it is today!
To celebrate Forge's 8th anniversary, we decided to present you with the following boosts for the whole day! You can grab your gift at any moment
from 18.04.2020 (10:30 CEST) to 19.04.2020 (10:30 CEST)
, and your boosts will remain active for 24 hours after accepting them.
But, please keep in mind that the gift is limited to one world only, so make sure to be logged into the world you want to receive it!
500% Coin Boost​

500% Supply Boost​

25% Attack Boost
(for attacking armies) ​

25% Defense Boost
(for defending armies) ​
That's not all! Our team is also preparing a Special Forum Contest for you! This new contest will bring three different challenges and awesome rewards, so make sure you stay tuned and don't miss the chance to participate!
On behalf of all of from the Forge of Empires team – thank you for embarking with us on this journey. We're all looking forward to celebrating many more milestones with you! Please leave your feedback
here
!
Sincerely,
Your Forge of Empires Team.
Last edited by a moderator: